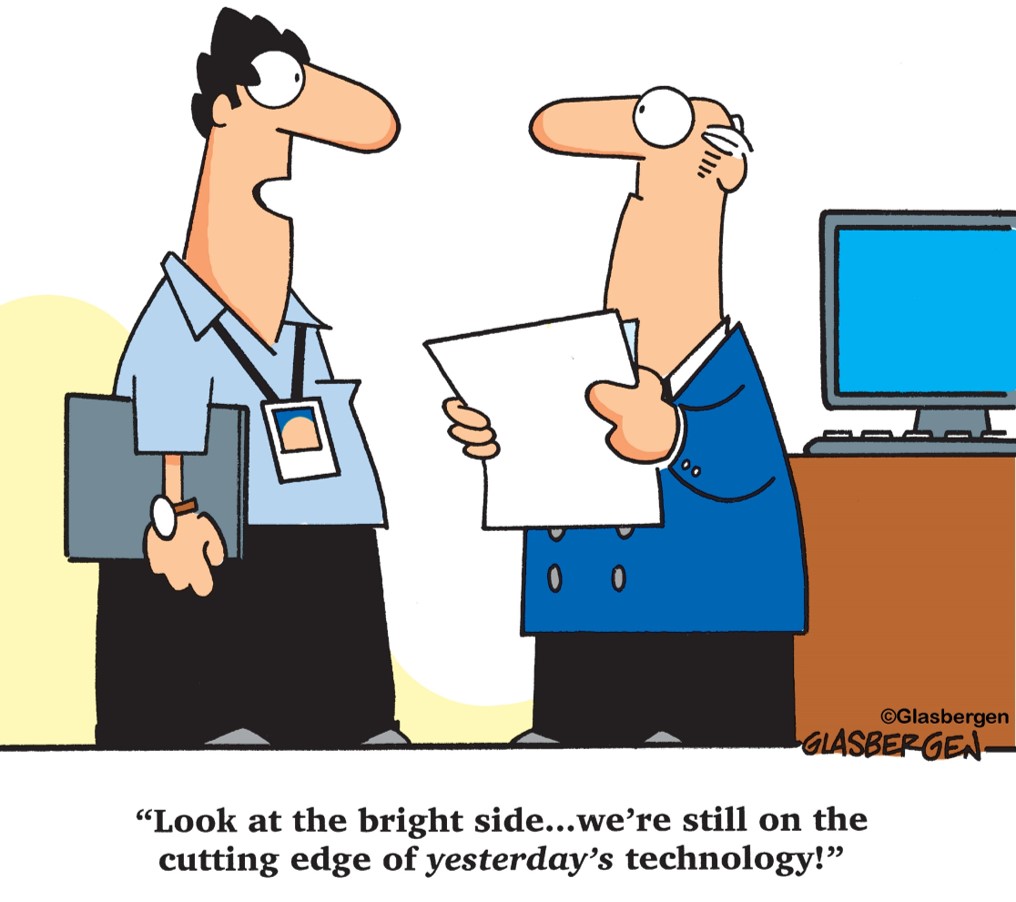 Granted ITIL is a framework and not a technology, but I just couldn't stop laughing when I saw this cartoon.  With all the hype around ITIL 4 it would "seem" that as of Q1 2019, ITIL V3 will be considered outdated/dead, however, we don't believe this to be the case.
Why Doesn't ITIL 4 Kill ITIL V3?
For those of you who have individually or organizationally invested in the ITIL Framework via certifications and working in organizations that have adopted and adapted the ITIL Framework, you know ITIL is not something that gets adopted and adapted overnight nor is it something that gets updated overnight. If you run an IT organization that has adopted and adapted the IT Infrastructure framework, then you have trained your people, selected the practices from the framework that work for your group and integrated them into your organization with the end goal of delivering better, more efficient and higher quality services that enable the organization to be more effective and reduce costs.  It would make no sense to jump ship.
A Historical Look At Updates
Whenever an update is delivered, whether it be an operating system, language, standard or framework, it typically keeps the best of the current version and adds to it enhancements that bring new capabilities.  Some things stay the same, some things are modified for improvement and there are always new features.  In the case of ITIL 4, the goal, we are told, is to bring the ITIL framework into the digital age.  An age where it co-exists with Agile and DevOps and Lean, to name a few.
How Will ITIL 4 Enhance ITIL V3?
The current V3 framework has 26 processes. All very solid. If you have adopted and adapted some or all of them, they are in place and will remain in place.  The focus of ITIL 4 is to integrate ITIL with other relevant best practices like DevOps, Agile and Lean. The core elements of ITIL V3 are expected to remain the same in ITIL 4.
What Does This Mean to You or Are Your ITIL V3 Certificates Valid?
ITIL V3 is alive and well.  All ITIL V3 certifications are valid and well respected, AXELOS will continue V3 Certifications until at least June 2020. If your organization has adopted ITIL, then ITIL V3 courses, content and certifications are relevant. If you want to work for an organization that has adopted ITIL, then ITIL V3 courses, content and certifications are relevant. Bottom Line – ITIL V3 is here to stay. ITIL 4 builds on ITIL V3.
ITIL 4 Release
The release program for the new ITIL 4 certification will take some time.
Foundation will be released Q1 2019; the first exams are due the end of February 2019
The 6 advanced courses/certifications will begin releasing June 2020
How Do You Prepare?
We recommend that everyone in the ITIL V3 space either buy and read the AXELOS publication when it is released or take a course. Courses are available in self-paced, live online and classroom format. Everyone who is currently in an ITIL V3 shop will want to understand ITIL 4 as soon as possible. That understanding will allow you to start thinking about the new processes that are introduced in ITIL 4 in order to determine which ones and how to adapt them into your organization.
Who Should Get ITIL 4 Foundation Certified?
If you hold an ITIL V3 Foundation Certificate and have not gone on to the advanced certifications, then you will want to prepare and sit the ITIL 4 Foundation exam given by PeopleCert in 2019.  This will keep you on the cutting edge and in good stead in the job market.  Individuals who have taken advanced ITIL V3 Certifications do not need to get ITIL 4 Foundation Certified as there is an advanced transition module for ITIL V3 Certificate holders with 17 or more credits.  Now, it won't hurt you to take the Foundation exam, just know it is not required.
Nothing Happens Overnight
Remember, nothing happens overnight. You didn't get to the place you are now overnight, and you won't adopt and adapt ITIL 4 overnight. Take all the time you need. When it is released, learn all about it. Make good decisions. Make a plan. Adopt and adapt accordingly.